Important Notes:

This item CANNOT be returned or exchanged, even if the size you ordered doesn't fit. 
We don't think it's a good idea that return the item to us in China to exchange the size, because the shipping you need to pay will be very expensive. AND we don't accept package from overseas at present. Hope you fans can understand.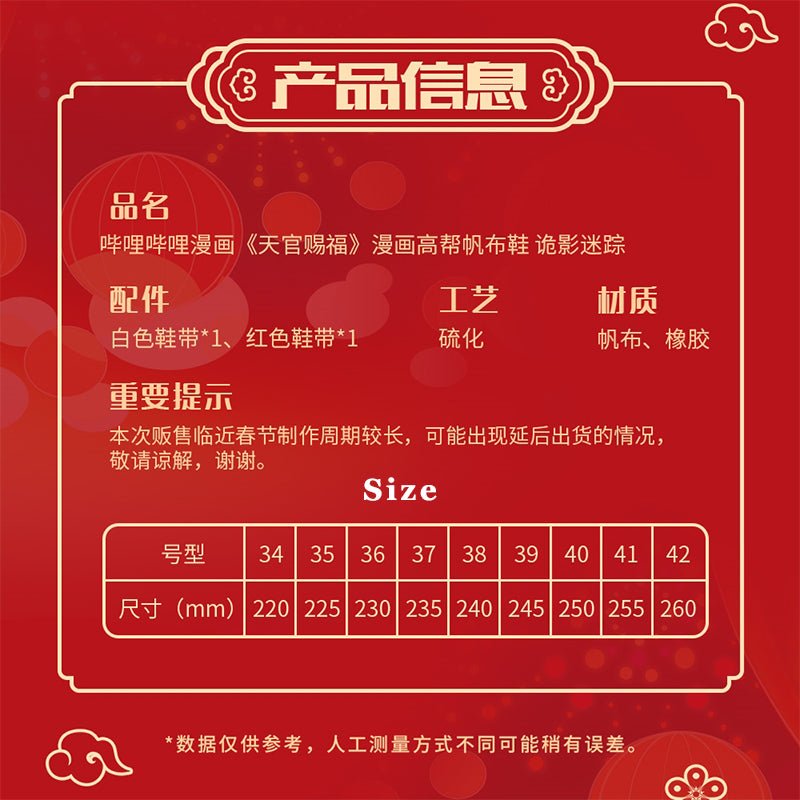 Tian Guan Ci Fu shoes
I loved these so much!!!! The packaging was beautiful, they also gave me stickers of Hua Cheng and Xie Lian
Very Swag, Awesome
I knew they were going to fit but a part of me was afraid it wasn't, but once I put them on they fit perfectly. It's just like the photo if not better.
Looks WAYYYYYY Better IRL
The shoes came in safe and sound and there wasn't any damage to the shoe box. It came with red laces, a post card, and some stickers as well!! The art on the shoes are beautiful and I really love the design! If you have a thin face, I don't suggest wearing them in public but I've grown to thicken mine!! I'm a US 9.5 Women's and I bought the Size 42. It is a little bit loose it's alright!
Arrived safely and looks great
Came relatively quickly and no issues!
Gorgeous!
they are absolutely gorgeous! they look amazing and the colors are really vibrant!!